With today's lifestyle, drastically changing environment and pollution, Asthma has become a common respiratory condition. More than 242 million people globally are affected by asthma. In fact, according to Wikipedia statistics, about 489,000 people died because of it in 2013. Asthma treatment in New York alone, is one of the most commonly taken treatment. Still a lot of people are unaware of the seriousness of the disease.
It's high time we educate people about this subject a little more.
What is Asthma?
Asthma is a chronic respiratory condition caused due to the swelling of the airways in the lungs.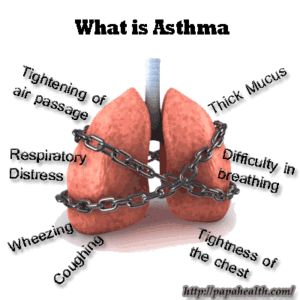 Asthma is usually caused by a combination of environmental and hereditary factors. Polluted air with different allergens is considered the major environmental cause of asthma. Others include, medications like aspirin and beta blockers, family history and poor condition respiratory organs.
It can be categorized by the frequency of symptoms, namely:
Forced Expiratory Volume in One second (FEV1), and
Peak Expiratory Flow Rate (PEF).
It can further also be categorized as per atopy or nonatopic.
Atopy is the inclination towards the development of type 1 hypersensitivity reaction, typically associated with heightened immune responses to common allergens, especially inhaled allergens.
Nonatopic asthma is a recurrent airway obstruction. It shows in the first two to three years of life, following a lower respiratory tract illness.
 Signs and Symptoms of an asthma attack
Asthma is identified by regular and changing symptoms of reversible airflow obstruction, and bronchospasm. The most commonly observed symptoms are coughing, chest tightness, wheezing, and shortness of breath. Varying from person to person, it can happen once or twice a day or a few times in a week.
Asthma attack is preceded by warnings that may start 24 to 48 hours before an actual attack. Symptoms include excessive coughing, shortness of breath, stuffy and congested nose, sore throat, and itchy and watery eyes.
The constant coughing can often result in the production of sputum in the lungs, which can look like pus due to the presence of high levels of white blood cells called eosinophils.
Patients often undergo extreme symptoms at night or in the early morning.
It can even get triggered by exercise or breathing cold air. Also, people diagnosed with chronic symptoms should avoid allergy triggers by staying away from dust mites, pollen and cigarette smoke.
A cure for asthma has not yet been discovered but there are various treatments through which it can be prevented and controlled. While immunotherapy (allergy shots) can be helpful, in some cases, asthma can be treated with a little care and proper lifestyle.
With the help of proper treatment any person suffering from asthma can lead a normal and healthy life.
Know more about Asthma treatment in NY
Dr.Sniffles is a clinic run by Dr. Shapiro with 30 years of experience and practices in Allergy & Immunology. It's a clinic dedicated to the diagnosis, and highest quality treatment of allergic and immunological disorders. The services include effective treatment for allergy, infections, hives, asthma and sinus infections. With friendly staff and well experienced doctors, you can count on Dr. Sniffles.